Freight forwarding in the port is an inevitable stage of sea freight. The procedure for port clearance requires knowledge of the specifics of internal logistics and strict compliance with legislative standards. Therefore, you can entrust port forwarding only to a professional and reliable company.
Star Trans Logistic LLC has been providing freight forwarding services for over 14 years, helping with customs clearance. Thanks to a clear interaction with port services, shipping agents and customs representatives, the company ensures the fastest possible receipt of the cargo by the customer.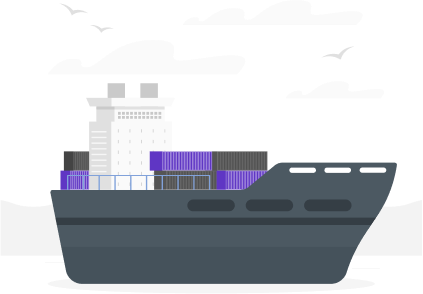 Port forwarding stages
Shipping by sea and port forwarding requires a much larger amount of work than other types of cargo transportation. We offer professional port forwarding in Odessa in the shortest possible time and at a bargain price.
What is included in port forwarding:
work with the documentation received from the line and ship agents;
organization of loading and unloading, transshipment;
control over the storage and movement of cargo in the port;
execution of necessary intra-port and terminal documents;
carrying outweighing and inspection;
customs clearance;
registration of permits for the export of goods;
selection and receipt of container packaging;
loading and securing cargo in a container;
receipt, verification, and payment of terminal bills for work performed and storage.
Freight forwarding in port with Star Trans Logistic LLC
Compliance with the interests of the client is the first priority in the activities of our company. The forwarding procedure in the Odesa port has been worked out to the smallest detail. We guarantee uninterrupted, reliable and fast delivery of goods from the supplier to the customer.
Why we should be trusted:
We occupy a leading position in the ranking of the best companies providing freight forwarding services in Ukraine.
We accept applications from Kyiv, Odesa, Zaporizhzhia, Kharkiv, Dnipro, Lviv and other cities of Ukraine.
Pricing is as clear and transparent as possible. We substantiate each item of expenses.
We offer excellent quality and reliable guarantees at an average market price of services.
We provide personal support, support and advice to the client throughout the transportation process.
We are fully liable for the safety of the cargo.
Transportation and forwarding are carried out only by company employees, without the involvement of unauthorized persons.
Gratitude reviews and recommendations of customers on our website and in social networks are evidence of the reliability and professionalism of the company.
The final cost of sea freight directly depends on well-organized work on intra-port freight forwarding. By contacting Star Trans Logistic LLC you will protect yourself from numerous problems, unforeseen expenses and useless loss of time.
Do you have any questions ?
Please leave your phone number and we will contact you shortly
In-port logistics
Intra-port freight forwarding is a procedure that includes mandatory work with agents of sea lines, regulatory authorities, and terminals. Our experts are familiar with all the subtleties relating to this area. You do not have to spend a lot of time on your own organization. We provide forwarding services for the transport of goods of any type, regardless of their size and quantity, ensuring that they arrive intact.
Among the services for in-port transport freight forwarding, the customer can choose only certain ones - for example, registration of all necessary documentation, tracking of movement, transportation of goods. It is also very important to attend to the payment of local fees, placing an empty container in the specified place. The price is affected only by the volume of work, while it was and remains below market.
Intra-port freight forwarding in the Odessa port implies some features. For example, the terminals directly cooperate exclusively with line agents who conclude contracts with organizations that have the appropriate specialization and are trustworthy. This allows you to speed up the implementation of all procedures, reduce the time spent in the port. Only a qualified approach will allow you to save yourself from the costs and any difficulties associated with the delivery of vehicles or other goods.
Often, wanting to save money, many prefer to contact those companies that, when providing forwarding services, perform such a task poorly and do not take into account the nuances. As a result, this can lead to an increase in the cost of forwarding to the port, since serious errors can be made up to the point that during transportation the goods may be unusable. It's better not to take risks and turn to professionals with extensive experience, who will organize all processes efficiently and in the shortest possible time without making you lose extra money. The control over the payment of bills and, if necessary, the sending of containers for storage in special temperature conditions remain with the forwarding company.